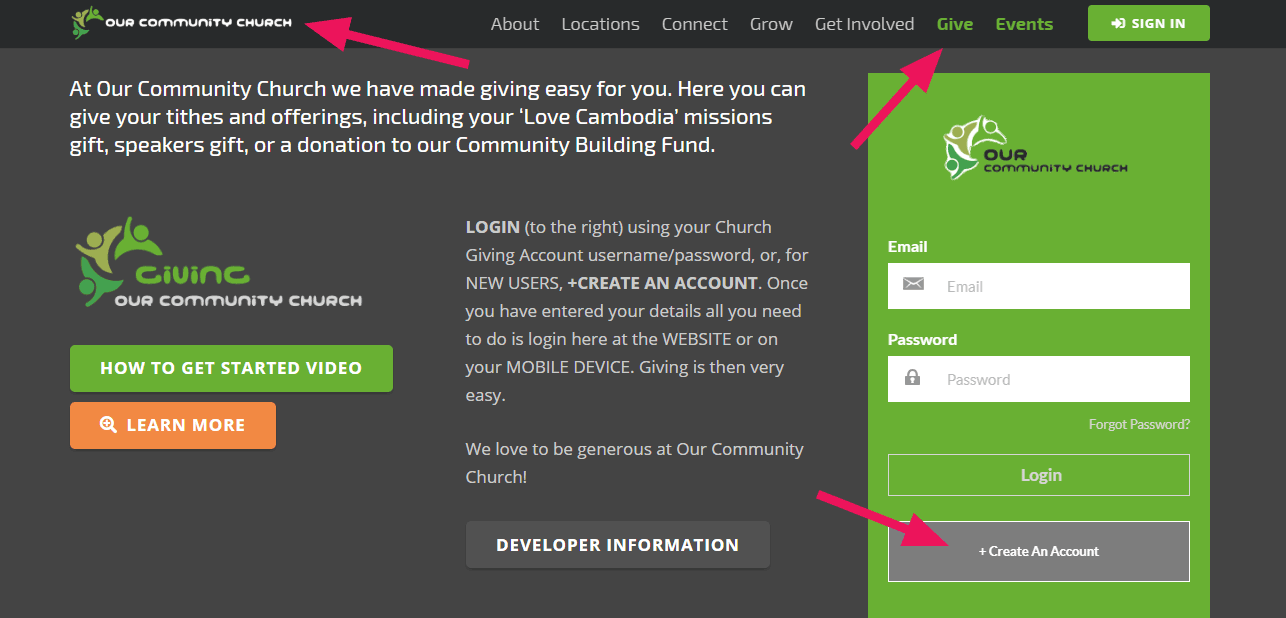 You can sign up to Generous from your church website.
Navigate to your church website. (in this example we are using our DEMO GENEROUS CHURCH WEBSITE - https://ourcommunitychurch.com.au) 
Locate the GIVING menu item, or sub-menu item. If you are finding it difficult to locate the giving page do a search on the website. TYPE > 'give' or 'giving' or 'bank'.
In your Church's giving page you will see a LOGIN widget / form (as above) that enables you to LOGIN into your Generous user account. 
In here, you can manage all your giving, your account and profile, reports, Credit Cards and Debit Account, recurring giving, event tickets, download receipts, etc. All the things you can do on your Generous mobile App.
---
First Time User
If this is your first time using Generous click + Create an Account just under the LOGIN button.
Fill out the form and add a giving type, either a Credit/Debit Card or a Direct Debit account. Follow the prompts and then you are all ready to begin giving using your Generous user account.
---
Forgot your password?
Don't worry if you've forgotten your password you can simply click 'Forgot Password' and follow the prompts. 
Please note: The procedure on this page creates a user account on the Generous platform. If you want to use your mobile device to give by SMS/text or the Generous App you will still need to authorise your mobile device. See how to install the Generous App or authorise your device using Text to Give.