There are a few ways to get started with Generous giving and a very popular way is by installing the Generous App onto your Android or Apple smart phone.
The other two ways are by Text to Give and via your Church's website. Find out how to get started using Text to Give and online.
---
Let's take a look at the basic steps to download, install and activate your Generous App on your mobile device.
Installing The App On Your Device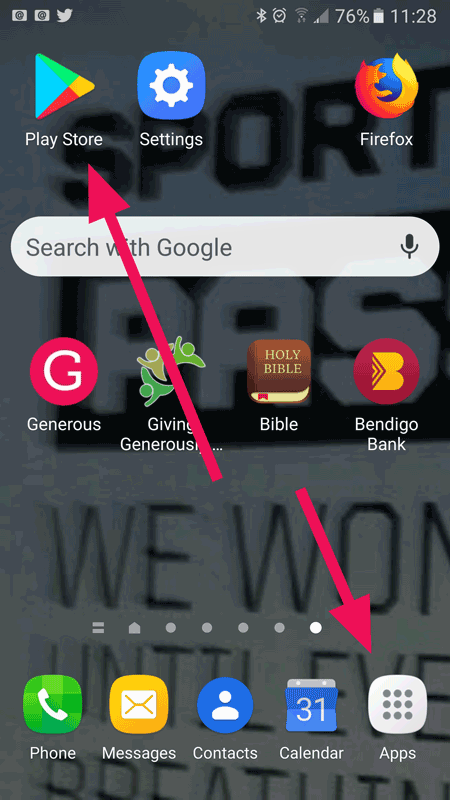 In this article we install Generous on an Android device. 
To install onto an Apple device please go to the Apple iTunes App Store and follow the corresponding instructions (see How to Download the App).
Using your mobile device go to your Android Play Store (see image). You can usually find this in the Apps folder on your phone else you can search for it in the Apps Folder > Search.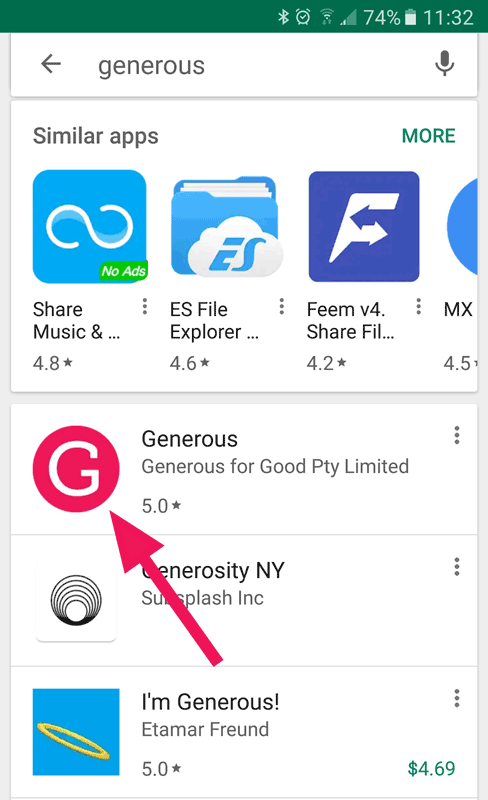 Once you are in the Google Play Store search for "generous" in the top search bar. 
Scroll down and you will find the pink Generous Logo and Generous for Good Pty Ltd App. Click this and then click the INSTALL button. Follow the prompts.
Once the installation download is complete the Generous App (characterised by a pink G logo) will be sitting on your mobile home page (see image).
Ready To Use Your Generous App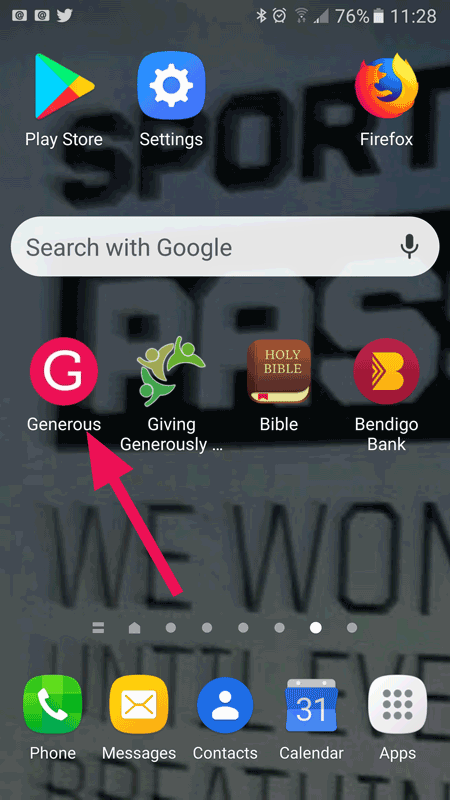 Click on the Generous App logo and you will commence the Generous App security verification process. This process locks the Generous App to you phone and phone number.
(NB: If you change phones, logout or reset the App you will need to go through this process again for security reasons.)
Mobile Device Security Verification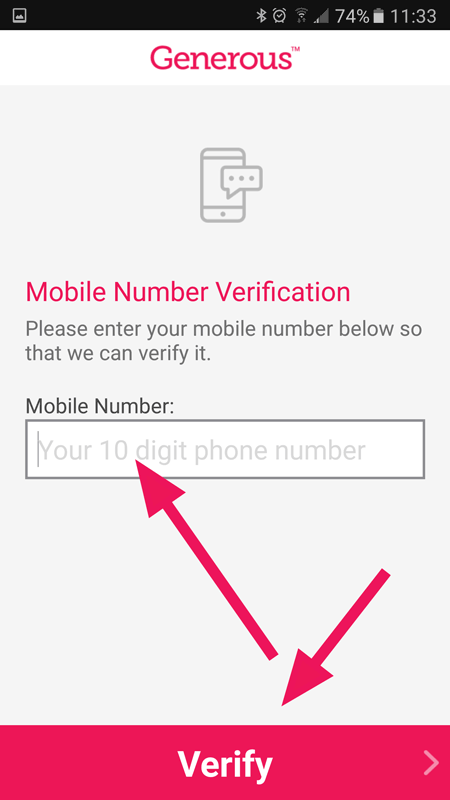 When you open up the Generous App for the very first time you will get prompted to provide your Mobile Phone number for Verification.
This is a ten (10) digit number with no spaces, dashes or non-numeric characters. For example, 0412345678.
Select VERIFY at the bottom of the screen and the system will send you an immediate TEXT message (SMS).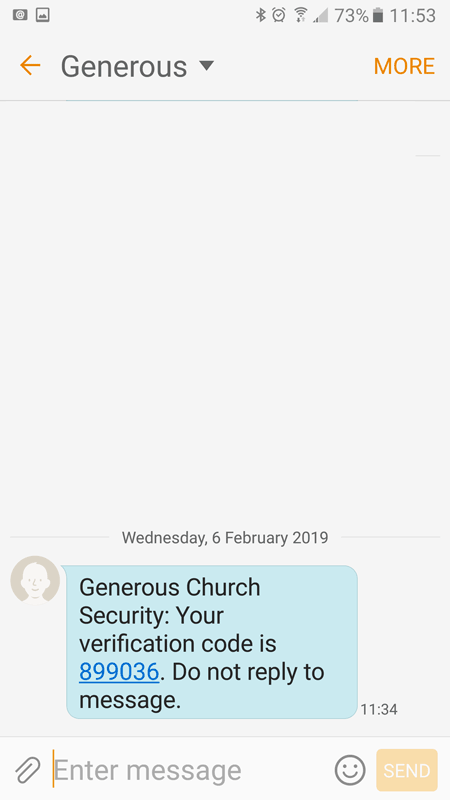 Please remember this 6 digit code. Write it down if necessary. The code is a one-time-only code to verify your phone number to your device.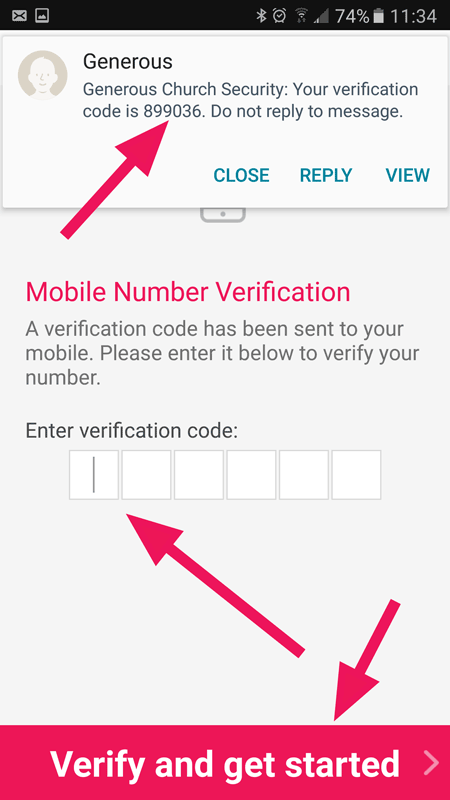 Click on the first "Enter verification code:" text box and type in the 6 digit code.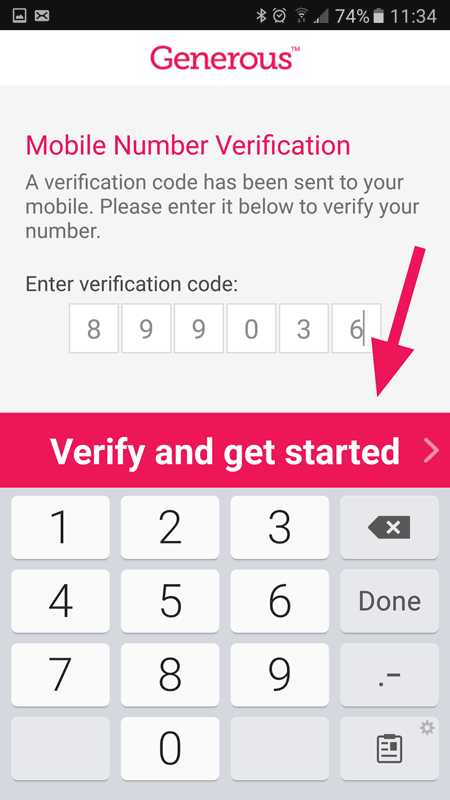 Once you have entered the 6 digits then click the "Verify and get started" button on the bottom of the screen.
Account Set-up & Login Procedure
Once your phone has been securely verified and registered on the Generous Platform you can now begin to set-up your personal Generous User Account.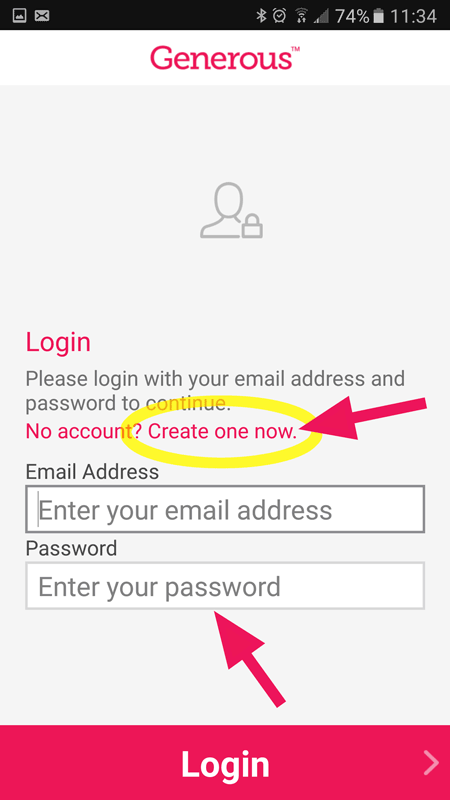 Login
You will be greeted with the Account Login screen.
If you have previously created an Account just enter your Email Address which you used originally to set up the account.
Enter your account Password and click > Login.
New Account Set Up
If you have never set up a Generous Account please click the 'No account? Create one now.' link.
This will lead you through a quick proforma to set up your Account. You only need to do this once. You can then edit your account once you login to the Generous App.
Set Up Your App Pin Number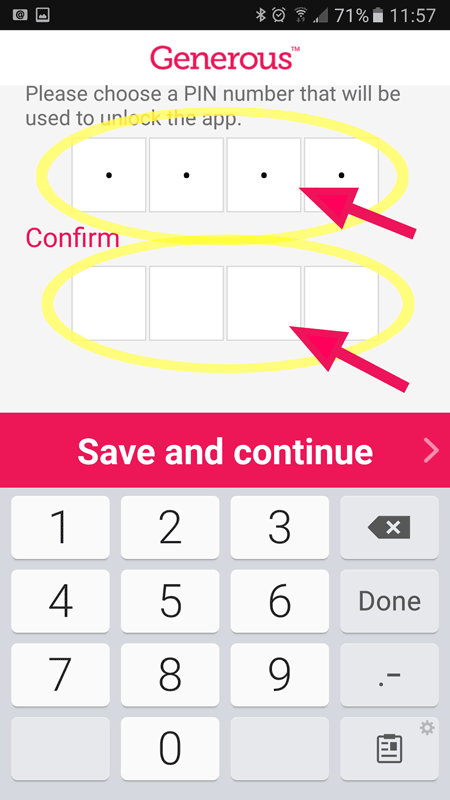 Rather than entering you username and password every time you use the App the Generous App allows you to enter a four (4) DIGIT PIN.
You will need to remember this PIN as you will need to use it to log into the App each time. You can reset your pin by clicking 'Forgot Your Pin' / 'Log Out' on the Generous Welcome screen (see below).
The 4 DIGIT PIN provides users with a balance of convenience and security when using the App.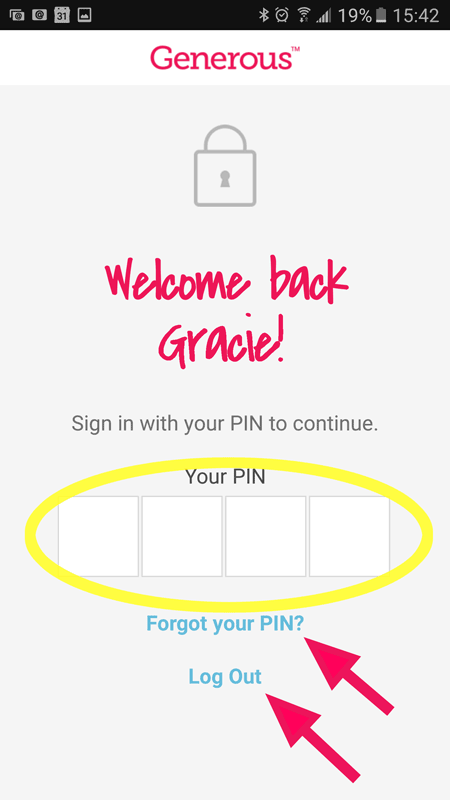 Now, every time you open your Generous App you will be welcomed with a greeting and invited to PIN in to continue giving.
If you forget your pin just click the 'Forgot your PIN?' link and follow the prompts. 
You can Log Out fully of your Account by clicking on the 'Log Out' link.